Dear Eggcited Settlers,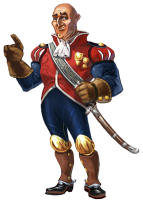 Based on the feedback received (on the test server and live forums) a few changes were made to the Easter 2015 event.
Stripy Easter eggs / Old dotted Easter eggs
Stripy Easter eggs are the new and only event resource for this year's Easter event
There will be no shop category with 2014's Easter event items
The former "Master of Martial Arts" general can be acquired with Stripy Easter eggs
More information will be provided with the upcoming Dev Diary
Every upcoming event will use new and unique event resources. All former event resources (such as old Easter eggs, old Christmas Presents etc.) are not worthless! During Summer season a special time span is planned where all former event resources can be used again to gain event items from the past (Easter, Football, Halloween, Christmas, etc.)
Test the new Easter event version on our international test server.
It will most likely be deployed on Thursday, the 26th of February.
See website news on
tsotesting.com
for more information about the time.
Happy testing and have an eggcellent day!