The Mysterious Coin / Tikki Island
This is a new type of adventure. You need to complete a quest chain resulting in fast XP growth compared to other, regular, adventures. Cheap in army - though some subquests demand a serious amount of resources.
THIS GUIDE HAS BEEN BASED ON THE TESTSERVER VERSION - THE LIVE-SERVER MIGHT HAVE A FEW CHANGES. BE AWARE OF THAT.
Quest Chain:
Starting: put 'an intriguing coin' on the Majors House. The quest chain will apear in the quest book as a Main Quest - so it can't be deleted!
The Mysterious Coin
Subquest 1: The shady goldsmith
Pay: 200 coin, 1.500 Tools
Reward: 7.450 exp, 100 Bread, 50 Sausages
Subquest 2:Prepare for the journey
Pay: 250 EWP, 1000 HWP, 500 Tit ore
Own: 10.000 Bread, 3.000 Sausages, 30.000 Fish
Reward: 5.800 exp, Tikki Island (adventure)
Subquest 3:
Play: Tikki Island
Reward: 15.000 exp + loot
Completion reward: 85.000 exp, 150 Star coins, 1 Weapon Boost (buff)
Guide for the adventure:
Used abbreviations:
| | | |
| --- | --- | --- |
| R = recruit | B = bowman | M = militia |
| C = cavalry | L = longbowman | S = soldier |
| A = crossbowman | E = elite soldier | K = cannoneer |
| | | |
| --- | --- | --- |
| | | MMA = Master of Martial Arts |
| BHG = batle hardened general | | |
| | any = any type of general | W1, W2, ... = Wave 1, Wave 2, ... |
Needed:
With MG: 383R,
1M, 21S, 140E, 145K, 140C (Vet: 384R, MMA: 395R)
Max losses are 382R (MG), average ~350R
Overview:
Sector 1:
Camp 1 (50 Lance Riders, 20 Nomads, 50 Riding Amazonian Guards)
MMA / Vet / MG: 80R, 140E (80R)
Camp 2 (50 Nomads, 50 Riding Amazonian Guards, 50 Riding Bowman)
MG: 119R, 1M, 145K (119R)
Vet: 120R, 1M, 129K (120R)
MMA: 131R, 1M, 88K (131R)
Setup block:
Block: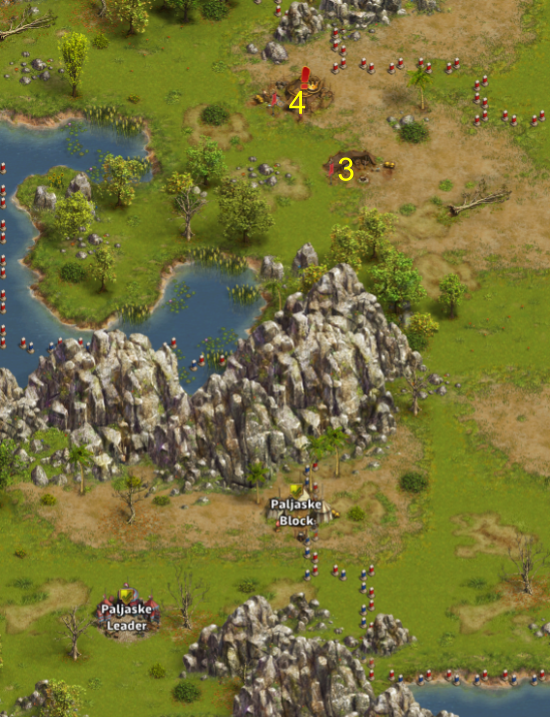 Camp 3 (70 Cataphracts, 70 Nomads)
Std 'block': 20S, 140C
Leader Camp 4 (60 Cataphracts, 1 Uprorious Bull, 60 Nomads)
MG 'leader': 87R, 1E, 132K (87R)
MMA / Vet with same setting & result
Sector 2
Setup block:
General: Standard general (Block)
Leader: MG preferred, Vet / MMA will do as well
Block:
Camp 5 (60 Cataphracts, 70 Composite Bowmen)
Std 'block': 1R, 21S, 124C
Leader Camp 6 (60 Nomads, 1 Uprorious Bull, 70 Riding Amazonian Guards)
MG 'leader': 95R, 1E, 144K (95R)
Vet 'leader': 95R, 1E, 144K (95R)
MMA'leader': 95R, 1E, 124K (95R)
Loot (indication):